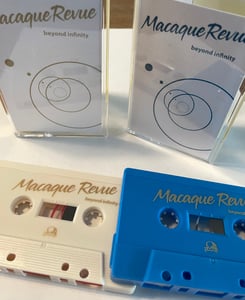 €

9.00
MACAQUE REVUE "Beyond Infinity" Cass.
release date: july 22.
13 tracks
silkscreened J-card
limited to 75 copies
blue cassette in white case, 51 copies
white cassette in white case, 26 copies
+ downloadcode
"Burning picture sounds and shining disco waves"
Im Dickicht herbstlicher Nebel destillierten Bernd Heinrauch (Luxus, Studio Schwarzau) und Andreas Heller (Reflector) ungehemmt Versatzstücke ihrer über Jahre gesammelten Zutaten und streng geheimen Vorlieben zu einem Album mit 13 Tracks, welche Stimmungen scheinbar vertrauter, cineastischer Bilder evozieren. Ob Instrumental- oder Discotrack, "beyond infinity" entführt in den zeitlosen Raum unseres emotionalen Gedächtnisses. Mitten in der Produktion wurde einiges von dem auf VHS gebannten Material noch zusätzlich von der jungen Soulpunksängerin Cooky aka Catrin Manoli besungen. Macaque Revue ist düster, glitzernd and alive.